Last December I found out that my proposal for a talk at CSSConfAU had been accepted. I was so freakin' excited, you wouldn't believe. CSSConfAU has a deservedly great reputation as being an excellent conference, and I'd be able to stay for JS Conf AU as well.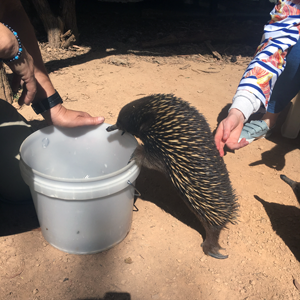 So on the 17th March I packed my bags and jumped on a plane to Melbourne. I had time to see my sister and her family before the conference events started. On the Sunday there was a speaker activity day – we started with breakfast, then went to Healesville Sanctuary (highly recommended, I got to pat an echnidna!), then on to a winery. I got to know a bunch of the other speakers and get excited to see their talks. On Monday I met up with friends and rehearsed one more time before getting an early night.
CSS Conf AU
Tuesday was CSS Conf AU. One of our speakers wasn't able to enter the country (thanks to our racist Immigration Department, I'm guessing, although I don't know exactly what happened) so I was speaking a bit earlier than I'd planned. I got to the venue in time to grab a coffee and say hi to people before the other talks started).
I enjoyed all the talks but the ones that were particularly useful to me were Jeremy Wagner's on responsible web fonts, and the one-two punch of cultural talks from Teresa Ma on communication between designers and devs, and Ivana McConnell's on respecting the expertise and passion of developers who took a different path to the stereotypical computer science degree.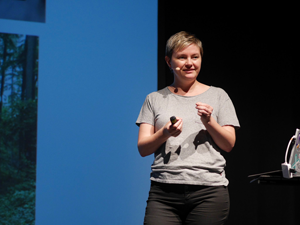 I think my own talk (on using CSS to support users with low vision) went well. I didn't fall off the stage or forget any major points, so I'm going to claim it as a huge success! But people said I gave them practical, easy-to-apply advice which is always my main goal so jokes aside, I'm glad people found it useful. Also Kevin Yank took a nice photo of me so I'm stealing it and putting it here!
There was a fun, relaxed after-party at the venue with board games and video games as well as drinks and dinner. Amy and Patrik managed to tie in a game of Ticket To Ride, and the Perth gang crammed ourselves into a photo booth which was hilarious to us and probably worrying to the photo booth staff.
JS Conf AU
The next day was the first of JS Conf AU, but I missed the morning sessions because I had to finish preparing for another talk at a meetup that night. I did get there in time to see Suz's talk about the new and still evolving WebUSB API. I love poking at hardware as long as I don't have to acheive anything practical so it was super interesting to me. (Note to self: finish blogging about Stranger Strings!).
There was a party that night as well but I headed out to the Melbourne Junior Dev meetup with Mandy, Jess and Amy. LJ had claimed us to give talks at her group once she realised there was a gaggle of Perth devs visiting the same week as her meetup was on.
Junior Dev meetup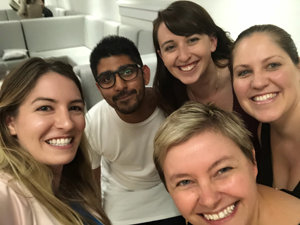 Junior Dev in Melbourne is a great group and I really enjoyed myself. I gave a talk about Accessibility Basics that went way too long, and no-one threw eggs at me for that, so they're clearly a wonderful group of people. The juniors asked me a bunch of great questions during our hang-out time afterwards, which always makes me feel like I've done a good job. Amy talked about how she was using CSS Grid in production, and Mandy showed her amazing text effects. I hope everyone had a good time!
Back to JS Conf
I was able to make it to all of the second day of JS Conf AU. I particularly loved Madleina's talk on raytracing in Javascript (difficult stuff!), Tim's speedrun through the concept of generated art, and Brittany's talk on helping juniors (and ourselves) by writing better error messages for our tools, and raising bugs/issues when we come across any which could be improved. I think following her advice will help my own written recommendations in my work too.
The after-party that night was fantastic. I got to chat with friends old and new, and join in with a bit of a dance and a sing with karaoke. I was tempted to join the Mario Kart tournament, but I knew that Madleina and Pilar would kick my butt easily so I stuck to dinner instead.
Decompress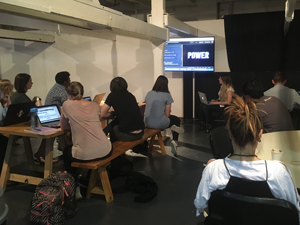 The final day was Decompress. I love this idea so much – some casual talks, some easy-going workshops, some chilling out on couches and noodling around on laptops. After an epic week of learning and presenting I didn't have room in my brain for any more learning, but it was a pleasure to hang out at the venue and chat with folks while poking at my email and written projects.
Once more, with feeling
The venue and the food and drink were amazing. The swag was perfect for me – tshirts with CSS and JS slogans on them. I'm sure others will write more about those. The effort the organisers went to to make the speakers and the attendees comfortable was impressive. I'll have to write a separate post about the live captioning, just because that's my professional interest, but I really feel like they thought of everything.
The sad part is that this is the last CSS Conf and JS Conf in Australia for now. The current organising team have been doing it for several years, which shows in the quality of the event but also leaves them pretty dang tired. I'm convinced they'll all be moving on to other wonderful things in the industry and commmunity after they've had some time off. Best of luck, gang, you are all champions.
I'm glad I got to be a part of such a thoughtful and inspiring event. I've been joking/not-joking that since I don't have time for a heap of side projects, I'll have to roll all my inspiration from last week into one project: an accessible 3D typography-based art project generated from people interacting with hardware, which is written in Elm and has really good error messages. I'll let you all know when it's ready 🙂