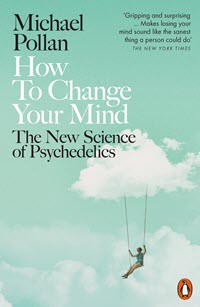 Pollan has taken his love of botany to a new place in this book. How To Change Your Mind is focused on psychedelics, which are a group of drugs which give a "trippy" effect. Psychedelics from mushrooms have been used since the dawn of human kind (probably), with a brief Western moment of publicity and research in the 1950s. This of course was followed by a moral panic in the 60s, so that the research into how they can help people has only recently started up again.
Pollan covers this history by targeting a few times and places, then discusses the brain science behind psychedelics before examining the new research and where it might lead. In between these sections are descriptions of the trips he took while researching. It's obvious he had to define a tight scope for this book or else he'd have written a whole encyclopaedia about this topic. I'd loved to have read more about the way indigenous people use these drugs, or more about European researchers, or other similar families of drugs. I'm glad he tried to make the trip diaries readable rather than detailed though – there's only so much you can read of people trying to describe such an un-describable experience. I was more interested in the before and after of each trip, how he approached them and what consequences they had.
He frequently mentions the way that psychedelics have a side-effect of making people really excited to share psychedelics with other people. I lost count of the number of people he interviewed who took one trip then changed their work to focus on making psychedelics more widely available in some way. Scientists did it with research, psychologists by including them in treatment, artists by hopping on a bus to drive across the USA handing out acid at concerts. Knowing how he feels about how humans co-evolved with plants, I was sure he'd eventually speculate that the enthusiastic evangelism of trippers is a mushroom's way of propagating itself more widely. But no, not even when he talks about Paul Stamets calling mushroom mycelium the "wood-wide web"! If a desire to convert people is a side effect, maybe part of the effect is not realising the mushroom is using you for its own purposes. Sneaky mushrooms!
As I read the book I related very much to his apprehension that tripping would lead him away from his materialist, atheist world view and persuade him of more New Age takes on consciousness. It was a relief to find that most people don't radically change their beliefs after experiencing the dissolution of their self, but instead make a fresh commitment to their existing values. Almost all of the people who made big changes in their lives did so by quitting things they'd never been 100% happy about but hadn't felt like they could stop doing. Addictions, careers, relationships, that sort of thing. And Pollan is a humanist as well as an atheist, so in spite of his frequent doubts about the reliability of his interviewees he writes about them with compassion and an openness to being proven wrong.
From reading this, I'm now thinking that if I had a safe opportunity to try mushrooms I'd definitely take it out of curiosity. Maybe LSD too. But where I live that's not likely to happen in a way I'd be comfortable with. Maybe one day that will change.